Boule
The BOULE [bul] is an elegant pocketknife that was created during the Empire of the Napoleon III era. It is located in the south-west of France, popular with social classes, with men and women ... know more
The BOULE [bul] is an elegant pocketknife that was created during the Empire of the Napoleon III era. It is located in the south-west of France, popular with social classes, with men and women alike, and was able to spread across France. Like many pocket knives in France, it has a second name, which refers to the blacksmith who made it at the time: GIMEL-YATAGAN.
The BOULE has a characteristically shaped bolster at the front end, today made of steel, previously made of brass for the nobility and wealthy bourgeoisie of silver or gold. With a handle length of 11cm, it is equally elegant and suitable for everyday use, and can be easily stowed in a bag.
The shape of the handle and the Yatagan blade refer to its origin in the south of France and its proximity to Spain.
The handles used to be made of fine materials such as white buffalo bone, blond horn-tip, boxwood, even ivory.
BOULE are made on the basis of classic components., The coutelier PARAPLUIE produced it with a boxwood handle, ARTO with a blonde horn tip and white buffalo bone for PassionFrance. As a sign of their traditional roots and authenticity, they bear the PassionFrance logo, the Coq, and the respective logo of the forge that made them on the blades next to the knife name.
Copyright 2020 © PassionFrance®
No results were found for the filter!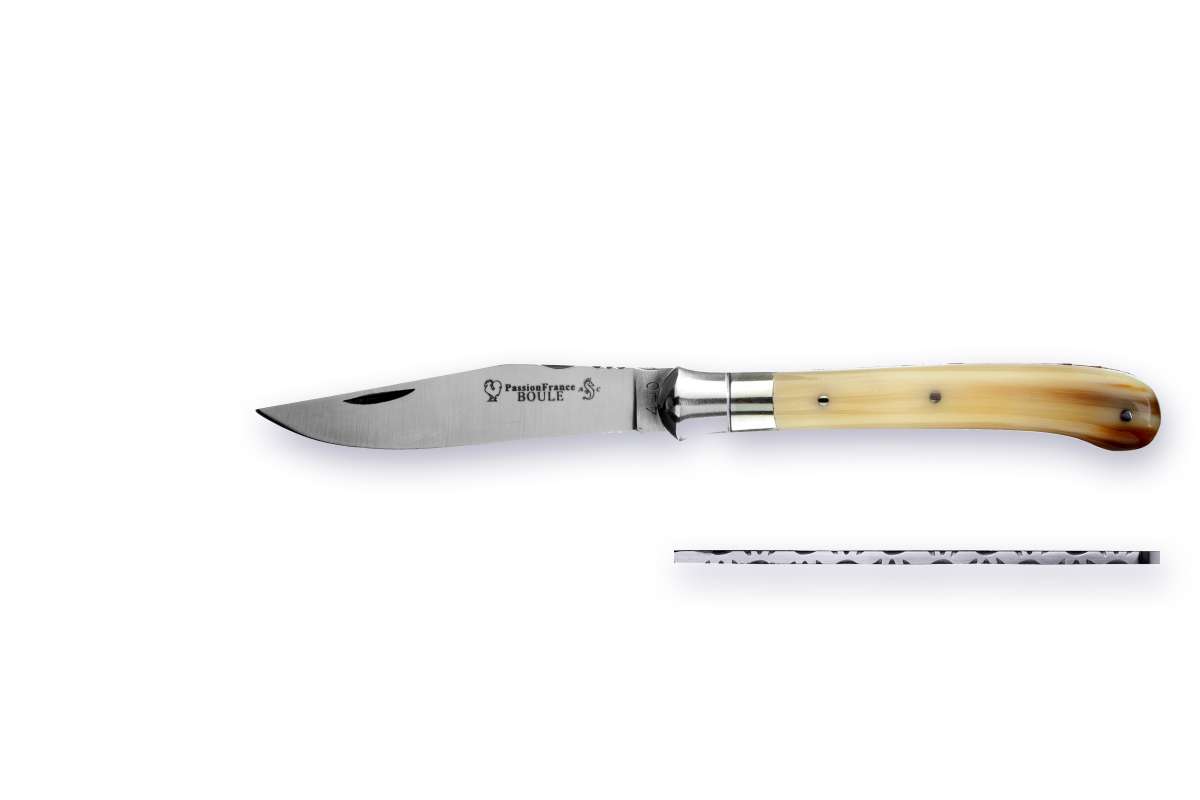 BOULE Atelier ARTO® series PRESTIGE blonde horn tip
BOULE from the series PRESTIGE are well manufactured pocket knives, manufactured in traditional form and manner with individual hand decoration, handles made from selected, high-quality materials and stainless steel blades of A440. The traditional cutlery ARTO in Thiers manufactures them for PassionFrance. As a sign of their authenticity, they present in addition to the...