Roquefort
The ROQUEFORT [ ʁɔk.fɔʁ] belongs to a family of pocketknives that is very popular from the Auvergne to the Cevennes. Some call it LAGUIOLE-DROIT because it resembles the LAGUIOLES created ... know more
The ROQUEFORT [ ʁɔk.fɔʁ] belongs to a family of pocketknives that is very popular from the Auvergne to the Cevennes. Some call it LAGUIOLE-DROIT because it resembles the LAGUIOLES created around 1850 in the village of Laguiole in Aubrac.
In terms of construction and form, ROQUEFORT, YSSINGEAUX, LAGUIOLE-DROIT and ISSOIRE knives are from the same family. The first examples of this knife family were made in the Massif-Central in the 18th and 19th centuries and were widespread in France, especially in the south.
They are of the same characteristics:
- the sage leaf-shaped, so-called Bourbonnaise blade with a forward-pointing tip
- a straight handle with a characteristic end called Bec de corbin (raven's beak).
As we know today, in the village of Laguiole, from these pocket knives arose the LAGUIOLES around 1850. In fact, the ROQUEFORT is a larger and more powerful version of the YSSINGEAUX. If it has an awl in addition to the blade, it is called MARCHAND-DE-VIN.
In addition, it has metal bolsters at both ends of the handle, which give the powerful blade additional stability. Originally, the ROQUEFORT was a knife used by the shepherds in the Causses, wild, karst plateauDonnées/Dimensions ROQUEFORT
Lame bourbonnaise Ss in the south of France near Millau, where the sheep find exactly the right aromatic herbs for the milk from which the Roquefort with its unmistakable character can mature in the caves.
This classic version of ROQUEFORT was made by the coutellerie ARTO on the basis of the traditional fourniture with decorated spring and blade back for PassionFrance. As a sign of its traditional roots and authenticity, they show the logo of PassionFrance, the Coq, as well as the mark of the manufacturing blacksmith on the blade.
Copyright 2020 © PassionFrance®
No results were found for the filter!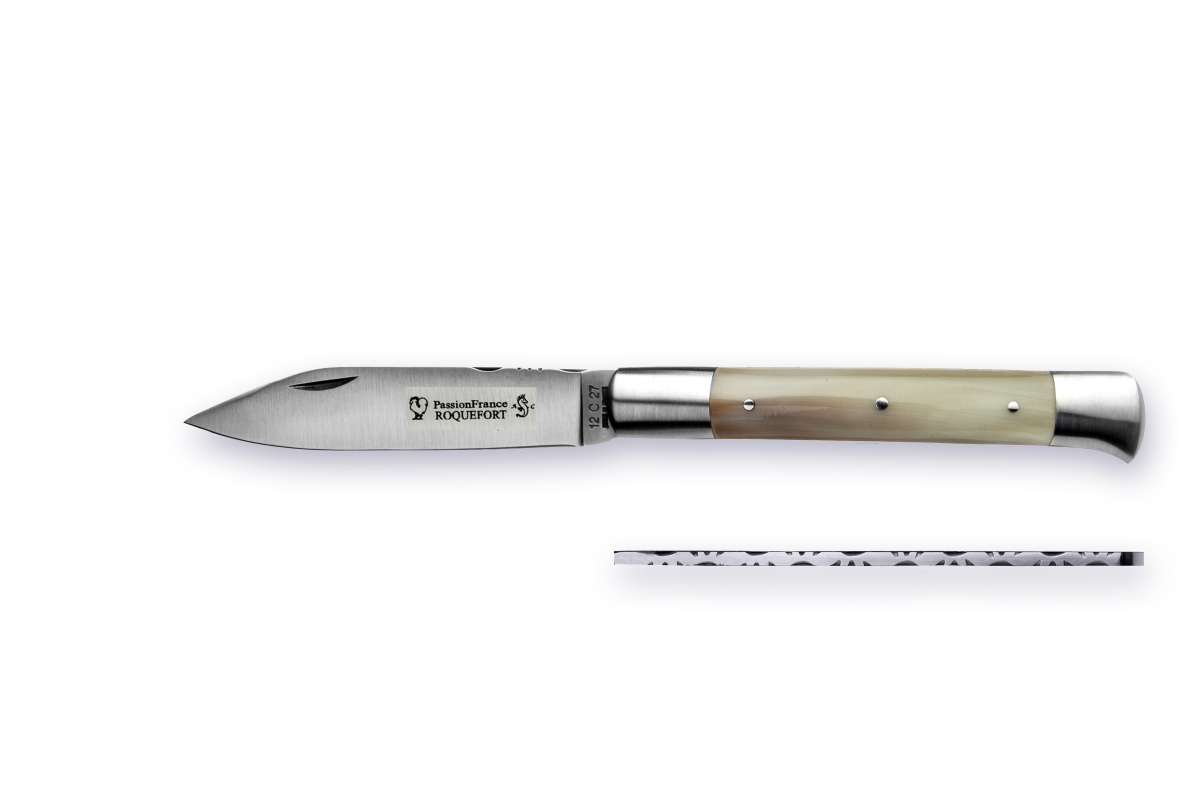 ROQUEFORT/LAGUIOLE-DROIT/Marchand de vin Atelier ARTO® PRESTIGE buffalo blonde horn tip
ROQUEFORT from the series PRESTIGE are well manufactured pocket knives, manufactured in traditional form and manner with individual hand decoration, handles made from selected, high-quality materials and stainless steel blades of SANDVIK 12C27. The traditional cutlery ARTO in Thiers manufactures them for PassionFrance. As a sign of their authenticity, they present in...