Gouttière
The GOUTTIÈRE [ɡu.tjɛʁ] is a member of the large pocketknife family that is very popular in central France from the Loire to Burgundy to Bresse. All of them have a blade with a deeply drawn ... know more
The GOUTTIÈRE [ɡu.tjɛʁ] is a member of the large pocketknife family that is very popular in central France from the Loire to Burgundy to Bresse. All of them have a blade with a deeply drawn tip, which is called an English blade. In addition to the GOUTTIÉRE, this knife family includes the TIRÉ-DROIT, DONJON, LANGRES, TONNEAU, FÉNÉROL and the rediscovered SEURRE and DONJON. In Burgundy, these pocketknives are used on many occasions, including when preparing food in the kitchen. At the table, GOUTTIÈRE is popular as table knives. The GOUTTIÈRE got its name from the characteristic hollows on its steel bolsters. Its slim handle has a length of 11cm. Blades and components traditionally made of carbon steel.
As a sign of its authenticity, the GOUTTIÉRE is marked with PassionFrance® on the blade next to the brand of PARAPLUIE.
Model variants:
- English blade made of traditional carbon steel, not free of impact.
- Handle material: la corne d'Aubrac, black cattle horn from the Aubrac region and blonde horn tip
Copyright 2020 © PassionFrance®
No results were found for the filter!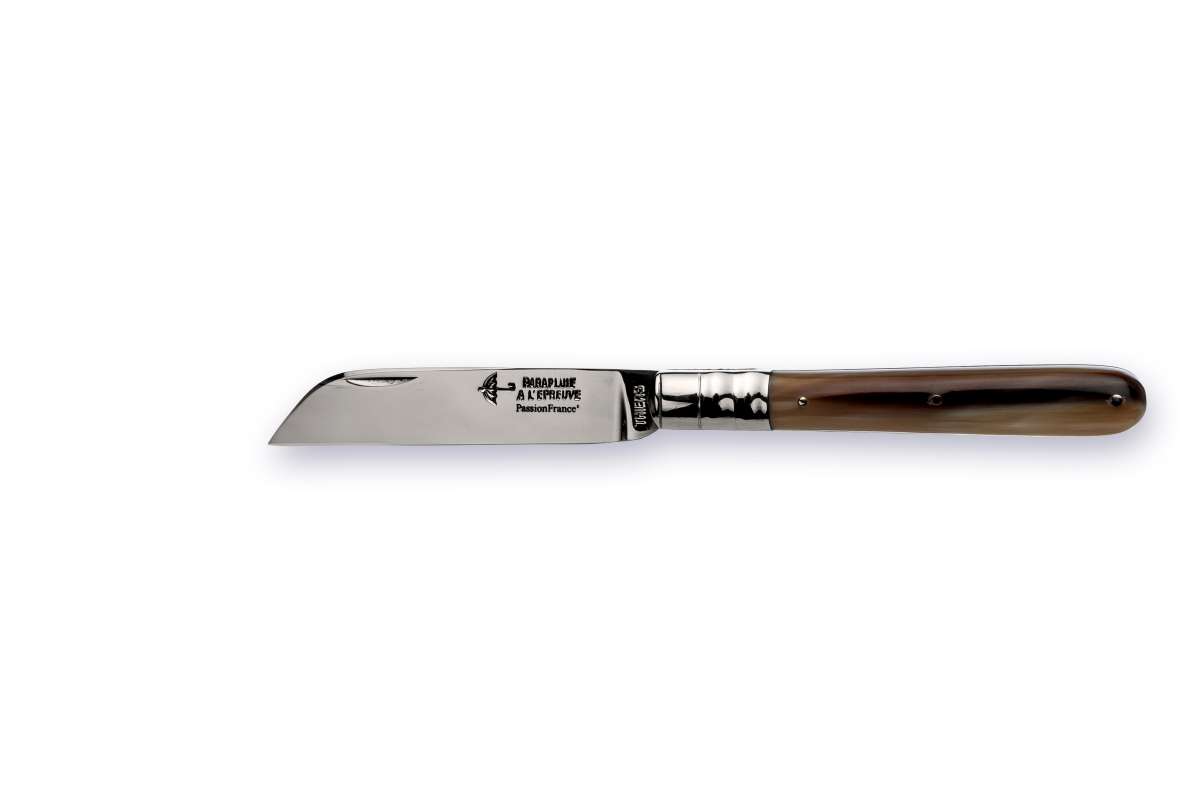 GOUTTIERE series TRADITION Atelier PARAPLUIE blonde horn tip
GOUTTIÈRE from the series TRADITION are traditionally manufactured pocketknives without decoration. The handles are made from blonde horn tip, blades are of carbon steel. The traditional cutlery PARAPLUIE in Thiers manufactures them for PassionFrance. As a sign of their authenticity, they present in addition to the brand of the cutler the logo of PassionFrance®. ... more...