Salers
The SALERS [sa.lɛʁ] is one of two pocketknives originating from the largest and wildest European volcanic landscape in Europe, the Cantal, which is located in the middle of France. It got its ... know more
The SALERS [sa.lɛʁ] is one of two pocketknives originating from the largest and wildest European volcanic landscape in Europe, the Cantal, which is located in the middle of France. It got its name from the picturesque medieval town in the heart of the region, which also gave its name to a breed of cattle and a famous cheese ...
Two knives were sold in the markets here, the SALERS and the AURILLAC. Both have the same handle shape with a characteristic curve on the underside of the handle, which makes them comfortable to hold.
The blade makes the difference. While the SALERS has the Yatagan blade known from the LAGUIOLES of today, the AURILLAC has the Bourbonnaise blade, which we know from the LAGUIOLE-DROIT, which arose around 1850. The SALERS also has an eyelet at the end of the handle.
We prefer the typical materials of the Cantal, horn and yew wood for the handles of both knife models. The blade is of SANDVIK 12C27. The handle length is 11cm.
The SALERS based on traditional components was made by the atelier ARTO with decorated spring and blade back for PassionFrance. As a sign of their traditional roots and authenticity, they show on the blade the PassionFrance mark, the Coq, together with mark of the manufacturing blacksmith.

Copyright 2020 © PassionFrance®
No results were found for the filter!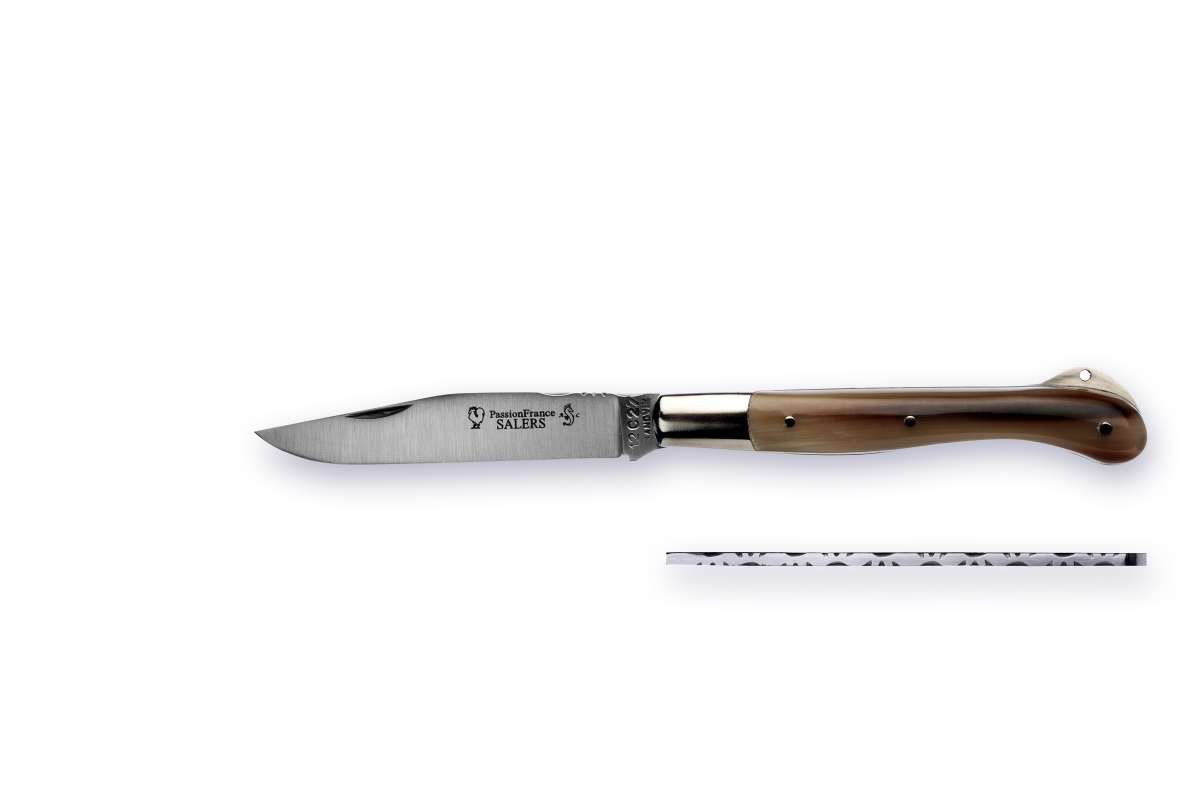 SALERS Atelier ARTO® series PRESTIGE blonde horn tip
SALERS from the series PRESTIGE are well manufactured pocket knives, manufactured in traditional form and manner with individual hand decoration, handles made from selected, high-quality materials and stainless steel blades of SANDVIK 12C27. The traditional cutlery ARTO in Thiers manufactures them for PassionFrance. As a sign of their authenticity, they present in addition...