Epiard
YANNICK EPIARD fertigte sein erstes Messer im Alter von 11 Jahren aus einem einfachen Stück Stahl, seine ersten Klingen schmiedete er im Alter von 17 Jahren. Die Leidenschaft für Messer und... know more
YANNICK EPIARD fertigte sein erstes Messer im Alter von 11 Jahren aus einem einfachen Stück Stahl, seine ersten Klingen schmiedete er im Alter von 17 Jahren. Die Leidenschaft für Messer und die Schmiedekunst hat ihn seit seiner Kindheit bis heute begleitet. Das Handwerk erlernte er als Autodidakt; Talent und Wissen vertiefte er in traditionellen, mittelalterlichen Techniken und entwickelte komplexe Damaststrukturen, deren metallurgische Zusammensetzungen er den jeweiligen Bedürfnissen anpaßt. Heute sind seine Spezialität Messer mit mittelalterlichen Wurzeln.
In einer Veröffentlichung des Museum of London entdeckt er einen archäologischen Fund aus der Nähe einer Kathedrale in London, der mit Hilfe einer dendrochronologischen Analyse auf das späte 13. Jahrhundert datiert wurde. Dieser Fund ist eine Sensation deshalb, weil Messer aus dieser Zeit äußerst selten und Klingen wie Griffe durch die Lagerung im Boden meist zerstört sind. Dieses Messer aber blieb erhalten und besitzt die atemberaubende Linienführung und perfekte Eleganz der Hochgotik. Für PassionFrance® fertigte er es mit handgeschmiedeten Klingen aus Kohlenstoffstahl mit schmiederauher Oberfläche im oberen Klingenbereich, was man in Frankreich "brut de forge" nennt.
No results were found for the filter!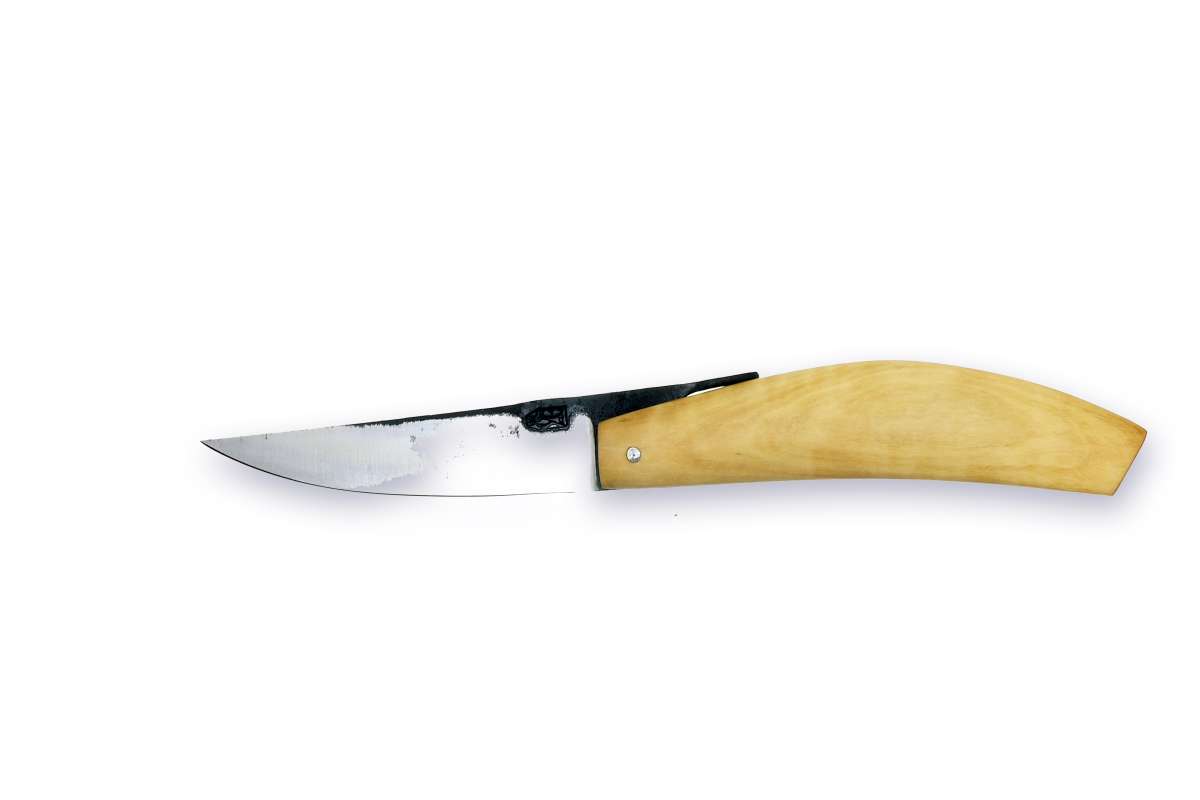 PIEMONTAIS ash tree
PIEMONTAIS MEDIEVAL par atelier EPIARD. Re-edition of an archeologic find in LONDON. Bolsterless handle length 11cm of ash. Blade with lentille XC75 carbon steel forged by hand. Knife without spring.